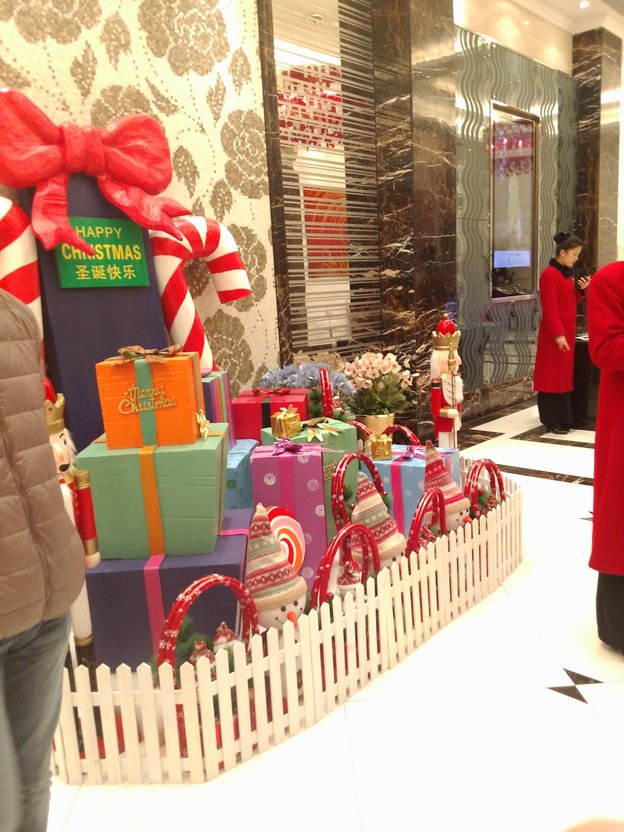 Guess where this is?
This is the restaurant where I went to dinner last night. A fancy, yet very definitely Chinese restaurant. In China.
News flash: Americans aren't the only ones obsessed with Christmas.
Okay, to be fair, nobody turns Christmas into an obsession quite like the United States. I think the frantic rush to start making preparations in September is a uniquely American tradition. But the celebration is catching on among the Chinese, especially young people, in a big way. From what I hear, a lot of Chinese are taking Christmas as an occasion to spend more time with their families. And businesses are capitalizing on the spirit by putting up holiday-themed decorations — lights, presents, and even decorated trees are everywhere.
As I write this, I've been sitting in the Beijing airport for five hours listening to a loop of "Santa Baby," "There's No Place Like Home For The Holidays," "Silver Bells," "Jingle Bells," and a rather Hawaiian-sounding rendition of "Let It Snow" (notable for the contrast with the complete lack of snow outside).
I guess the lesson is, if you're tired of the Christmas frenzy, you might be able to hide, but you can …